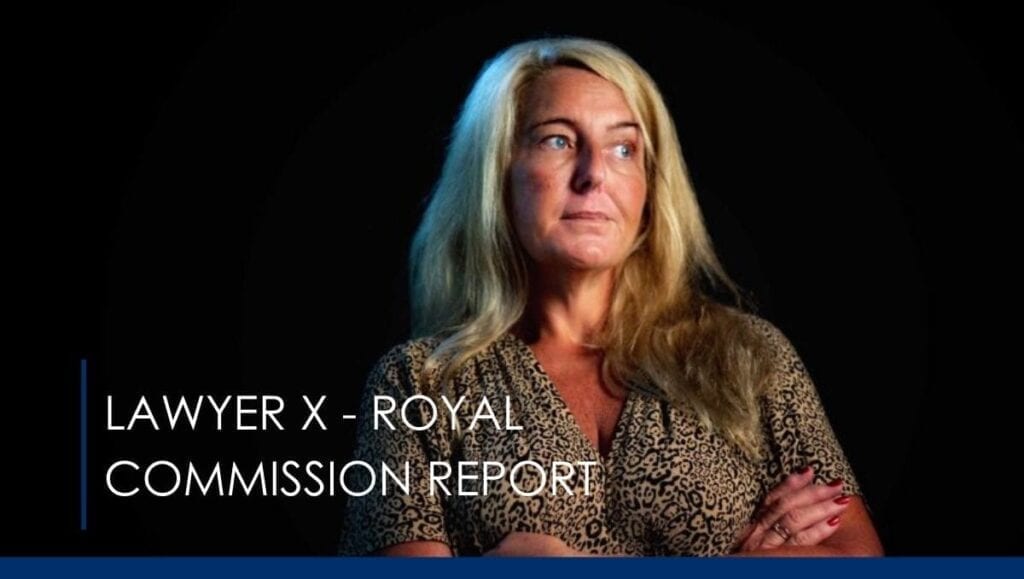 By Calvin Gnech, Criminal Lawyer and Legal Practice Director at Gnech and Associates
30 November 2020
In March 2019, the infamous Lawyer X was revealed to be Nicola Gobbo, gangland defence barrister, who represented numerous Melbourne underworld figures whilst simultaneously a police informant. Today, the Hon. Margaret McMurdo AC delivered a report of the Royal Commission's findings into Victoria Police's handling of police informers, including informer 3838 (Gobbo) between 2005 and 2009.
Convictions at risk
Gobbo's actions, described by the High Court of Australia as 'fundamental and appalling breaches of (her) obligations as counsel to her clients and of (her) duties to the court' have put many convictions, including those of Carl Williams (deceased) and Tony Mokbel, at risk.
A double life
Gobbo's double life began in 1995, when she first began providing information to the police. She would go on to become both a lawyer (Gobbo was the youngest person ever admitted to the Victorian Bar at 25), and a registered police informant, giving information about her clients as Informer 3838. In March 2019, after over a decade of anonymity, a suppression order was lifted by the Court of Appeal and Gobbo's identity was revealed.
A Royal Commission called
The drama continued to play out as Victorian Premier Daniel Andrews called for a Royal Commission into Victoria Police's handling of police informers, including informer 3838 (Gobbo), between 2005 and 2009. The Hon. Margaret McMurdo AC was appointed as Commissioner of the Royal Commission.
After receiving numerous submissions and holding 127 days of public hearings, the Hon. Margaret McMurdo AC today delivered a report of the Royal Commission's findings (including recommendations), to Victoria's Governor.
Does the end justify the means?
The report addresses the oft-asked question of whether the end justifies the means, stating,
"The community might question the need to scrutinise and denounce seemingly effective intelligence-gathering by the police. The fact that Victoria Police was able, with Ms Gobbo's assistance, to secure convictions against people accused of committing serious violent and drug-related offences could be seen as a positive outcome for the community.

That view, while understandable, overlooks the far-reaching and detrimental consequences of the conduct of Ms Gobbo and Victoria Police. During the Commission's inquiry, two of Ms Gobbo's former clients had their convictions overturned. Both had been deprived of their liberty, spending many years in prison after unfair trials. Numerous other people are seeking to appeal their convictions. There have been many court proceedings and inquiries, at great public expense, and there are likely to be more. These events have put at risk the integrity of the criminal justice system, harmed the reputation of the legal profession, and diminished public confidence in Victoria Police."
1,011 affected
The report stated that the Commission considers that 1,011 people may have had their convictions or findings of guilt affected by Gobbo's conduct as an informant. While her improper conduct varied, it was broadly grouped into cases affected by:
a conflict of interest; and
cases affected by tainted evidence.
The above categories were also applied to the conduct of former and current Victorian Police Officers.
Recommendations
The report put forward the following recommendations:
That the conduct of Ms Gobbo and relevant Victoria Police officers be referred to a Special Investigator, to consider whether there is sufficient evidence to bring criminal charges against them, and/or disciplinary charges in the case of current Victoria Police officers
Reforms to increase accountability and transparency in Victoria Police's use of human sources
The establishment of a model of independent external oversight
The reinforcement of police disclosure obligations
Improvement of aspects of legal profession regulation
Governance and monitoring measures to ensure Victoria Police and other relevant agencies implement these reforms in an effective and timely way.
The full report, including a summary and recommendations, is available at https://www.rcmpi.vic.gov.au/final-report.