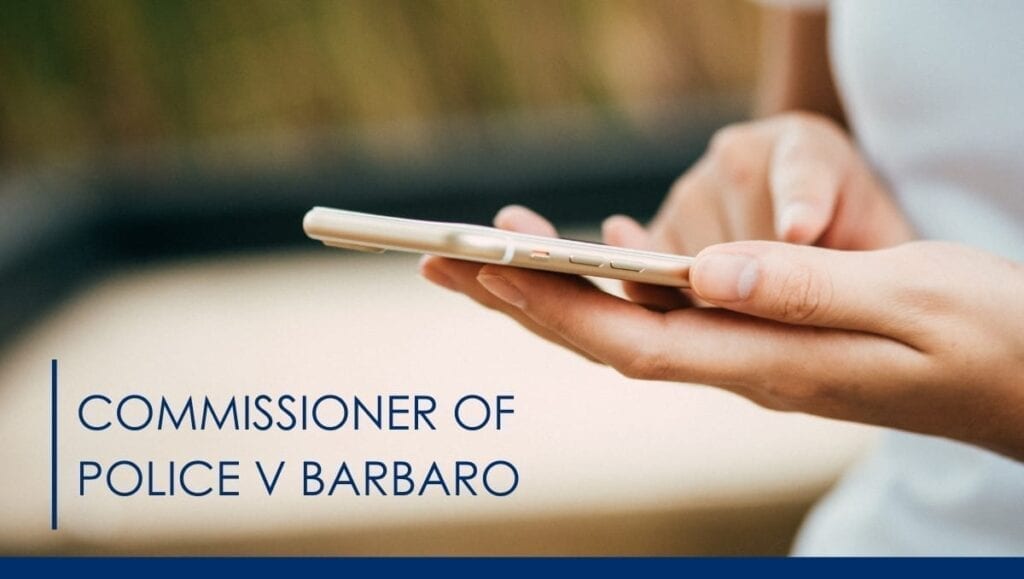 By Calvin Gnech, Criminal Lawyer and Legal Practice Director at Gnech and Associates
28 October 2020
The Qld Court of Appeal has just this week handed down their decision in the case of Commissioner of Police v Barbaro. The case focused on whether the protection of privileged information was a reasonable excuse for refusing to give police access information to a mobile phone. Read on for a summary of the trial, District Court Appeal and the Qld Court of Appeal's findings.
The Barbaro Trial
Under Qld legislation a Magistrate may issue a search warrant requiring a specified person to give to police the access information to a mobile telephone. It is an offence not to comply, without a reasonable excuse. Such an offence is punishable by a max penalty of 5 years imprisonment. In the case of Harley Barbaro he refused to provide the access information to police and was charged. At trial he gave evidence that the reason he had refused to reveal the password was that he had been in the habit of using the phone to communicate with his solicitor by using various text messaging systems on his phone. The phone contained numerous privileged written communications between the respondent and his solicitor and he did not wish police to read these messages. It was claimed at his trial that his right to protect privileged information constituted a reasonable excuse for his refusal. For reasons that it is unnecessary to detail, the learned Magistrate rejected this defence and found the respondent guilty.
District Court Appeal
The respondent appealed to the District Court and Kent QC DCJ upheld his appeal. In substance, the respondent submitted, and Kent QC DCJ accepted, that he was entitled to maintain his privilege against disclosure of certain of the information even if other information contained on the phone was not privileged and this claim constituted a reasonable excuse for his refusal. His Honour set aside the conviction.
QLD Court of Appeal Decision
This week the Qld Court of Appeal unanimously dismissed an appeal by the Commissioner of Police finding the refusal did amount to a reasonable excuse upholding the decision of Kent QC DCJ. In the reasons, Sofronoff P held:
"In this case the demand made of the respondent to reveal the password that would unlock his phone was made in terms that did not suggest that police accepted any limitation upon their powers of inspection of documents that they found on the phone. Police were asserting a right to read every document on the phone".
Find the full judgement at: https://archive.sclqld.org.au/qjudgment/2020/qca20-230.PDF