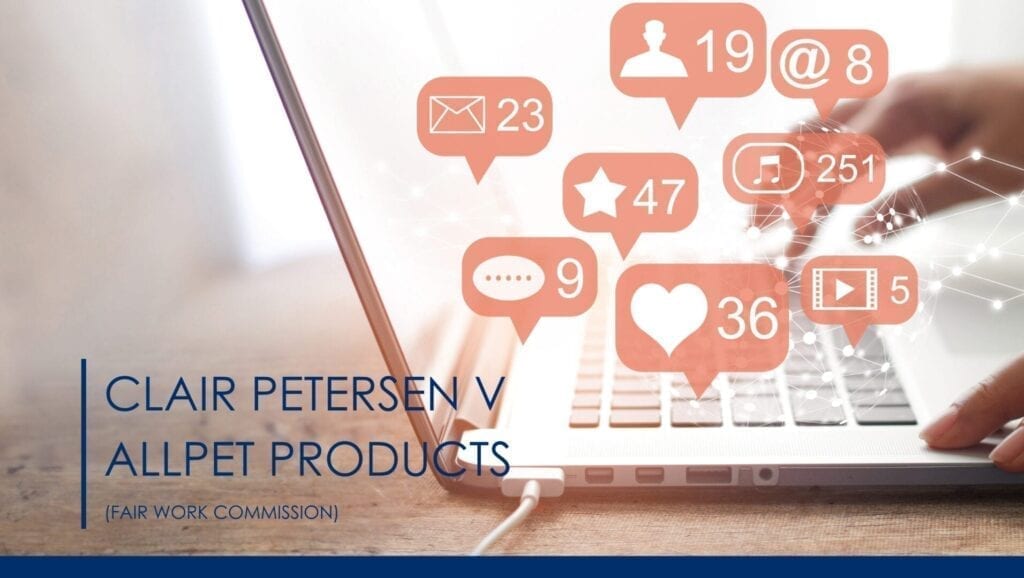 By Calvin Gnech, Criminal Lawyer and Legal Practice Director at Gnech and Associates
29 October 2019
The Fair Work Commission last week handed down their decision regarding a case of dismissal where an employee posted disparaging remarks about her employer on social media and allegedly engaged in personal activities during work hours. Read on for the facts of the case and the Fair Work Commission Decision.
Ms Petersen was a Sales Executive for Allpet Products working in both South Australia and Queensland. She commenced work for the company in March 2018 and was dismissed in April 2020, applying to the Fair Work Commission for an unfair dismissal remedy the following month.
Ms Petersen had initially been responsible for the South Australia market and in March 2019 had taken on the additional responsibility of Queensland. She had at all relevant times met or exceeded her sales targets. Despite this, between November 2019 and January 2020, Allpet developed concerns with some aspects of her performance, particularly late reporting.
COVID-19
In March 2020, in light of the potential impacts of COVID-19, Allpet implemented a new requirement for all sales executives to produce a daily report of sales. Later in the month, for the same reason, Allpet reduced both Ms Petersen's work hours and her salary by 20%.
Dismissal
After a number of discussions around Ms Petersen's failure to submit reports and run sheets on time, and Allpet Management becoming aware of a number of Ms Petersen's Instagram posts which they claimed led them to believe that Ms Petersen had conducted private business in competition with Allpet, disparaged Allpet, undertaken private activities during work hours and consumed alcohol while driving, Ms Petersen received a letter of dismissal.
Fair Work Act s387 – Valid Reason
The Fair Work Commission discussed each of the matters under s387 of the Fair Work Act 2009 (Criteria for Considering Harshness etc.), including whether Ms Peterson was dismissed for a 'valid reason'.
The decision stated:
"I have found that whilst there were performance deficiencies that warranted counselling and warning, those deficiencies in the context of Ms Petersen's overall work output together with mitigating factors operating at the time of dismissal lead to the conclusion that there was no valid reason for dismissal."
It was found that Ms Peterson was a committed employee who struggled under her workload and remote working. While there were legitimate concerns with aspects of her performance, Allpet failed to appreciate the COVID-19 employment context, held wrongly made assumptions and judged her social media posts and tracking information without the benefit of securing a response or explanation from Ms Peterson.
"It is clear that this is a case of a committed but occasionally deficient employee who was already starting to sink amidst a heavy workload being unable to sustain strictly enforced internal reporting obligations on top of her customer servicing obligations across two States without lapses. When COVID-19 hit, the combination of reduced hours to do the job, demotivation arising from reduced hours and pay and an additional reporting obligation combined to create a set of circumstances in which an objective assessment of performance was fraught. Yet in that very context untested assumptions about conduct from social media posts led to an unfair conclusion that Ms Petersen had fooled the business. Allpet tried to act fairly but its judgement in the final analysis was rash and impaired. When considered objectively Ms Petersen's dismissal was harsh, unjust or unreasonable."
You can read the full decision at https://www.fwc.gov.au/documents/decisionssigned/html/pdf/2020fwc5332.pdf